Finding a dentist you can truly trust with your dental health is like striking gold, and that's the quality of service you'll get at Esperanza Dental Clinic. Our dentist is backed by a highly trained staff and ready to serve clients in the Phoenix Area.
When it comes to dental care, we've got what it takes to help your entire family. Everyone here on our staff is committed to continual education and learning, and we work hard to maintain an atmosphere that's as comfortable and relaxing as possible. Our treatments are performed by professionals in our state-of-the-art facility, complete with amenities and cutting-edge technology. You can count on us to assist you with all of your dental care needs, including:
•General dentistry
•Dentures and implants
•Cosmetic dentistry
•Children's dentistry
If you're in need of personalized, gentle care from a dentist you know you can count on in a time of need, then we're the clinic for you. Call us to schedule your appointment. We serve clients in and around the greater Phoenix area and look forward to giving you quality care.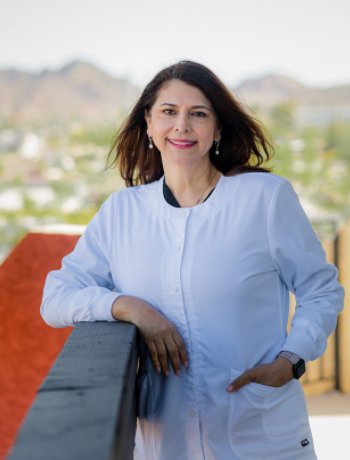 Alejandra Torres, RHD
Alejandra has been in the dental field for 20 years, first as an assistant and now for almost twelve years as a Dental Hygienist. Her mission is to educate people to have a healthy and beautiful mouth.
She says that our mouth is the most important part of our body with which we laugh, communicate kiss and smile that is why it should be healthy beautiful and fresh
Alejandra says that the office is her second home and her colleagues and patients are like her family. So she makes an effort every day to create new and better experiences
Alejandra has been on several mission trips and volunteers at local mission organizations. She believes that participating in medical missionary organizations is a great opportunity to meet new people, whether providers or patients "There's always an opportunity to learn something new and to educate someone new."
She loves concerts spending time with family and friends. She also loves to travel and learn about different cultures and traditions.